Revving up the Job Hunt with Insure Your Motor
13 Jun 2014
St Giles Trust Cymru's Choices young people recently enjoyed an Insight Morning learning about working life at an insurance contact centre with Insure Your Motor, part of The A & A Group, in Cwmbran South Wales.
The Trust's young attendees are currently unemployed and job seeking. The contact centre sector currently employs over 24,000 people in Wales and is a key employer of young people. Funded by HSBC, Choices helps young people into work, education and training through helping them overcome any barrier which might be holding them back.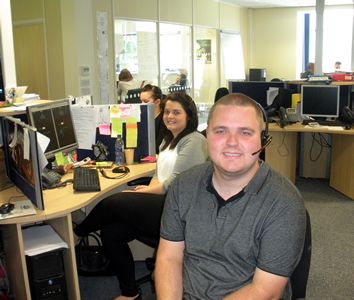 Attendees at the Insight Morning started off all ears when staff members told their employment stories. To the surprise of some, the young people heard how contact centre workers had overcome unemployment and limited experience to get a job with Insure Your Motor and start climbing the career ladder.
The young visitors sprang into action shadowing calls from the Sales and Customer services team.  They got the inside story on the types of calls people working for the company receive, how sales are made and how complaints are resolved successfully.
Friendly staff from HR explained how Insure Your Motor recruits new staff before delving into top tips for employment. They covered the value of a good covering letter, how to write an eye-catching CV and tips for standing out and doing a great job at interview.
"What a brilliant day to be a part of, brilliant work environment with brilliant people all of which had brilliant work ethic!" said Richard, a young person there on the day. "I will certainly be keen on any vacancies from this employer."
Jane Davies, a Choices Case Worker, said "Thank you to everyone at Insure Your Motor. All the staff were helpful and gave our young people valuable guidance and advice." 
The A & A Group have selected St Giles Trust as their 2014 charity partner, aiming to raise £20,000 to support our services for young people.
Charlotte Hanna, Group Head of Marketing, said "The A & A Group is really proud to be supporting St Giles Trust this year. Working together means that we can make a big difference for young people in our local communities, and we were delighted to be able to welcome the group to our contact centre in Cwmbran. It's a great opportunity for them to see beyond some of the misconceptions of contact centre working, and a good experience for our own staff to undertake personal development outside their day to day roles."
Contact Insure Your Motor for a great quote on your next policy!